Adapting To Social Distancing & Tips For Riding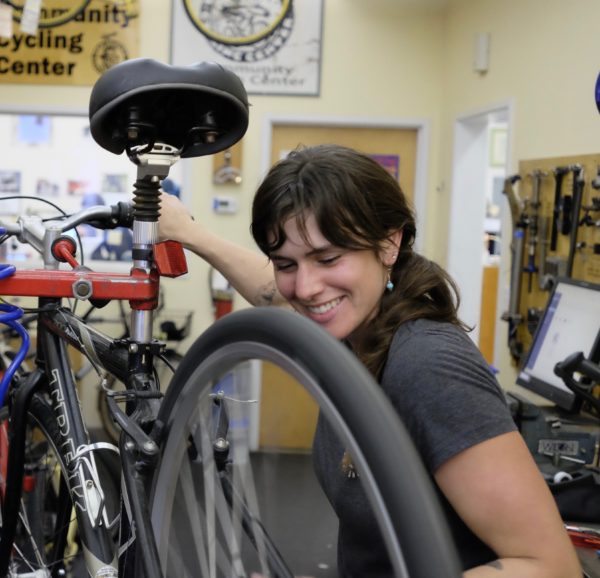 Written by Riley Gabriel, Programs Mechanic
Since March 16 the Community Cycling Center Bike Shop has been taking repairs and gearing up to do most of our sales online instead of in person due to COVID-19. Like everyone, we have been adapting to this new world of social distancing and heightened sanitation procedures. Bicycle shops have been recognized as essential businesses; allowed to stay open while many other businesses are closing their doors for an indefinite amount of time. The atmosphere at the shop has changed immensely. What used to be a space bustling with sometimes 20 or more staff (service department mechanics searching for parts, managers gathering for meetings, program staff completing safety checks), various customers on the retail floor, and regular volunteers is now an emptier series of bench spaces, rooms, and hallways. We sanitize surfaces and tools on a consistent schedule, maintain a 6-foot distance from each other, and complete all customer interactions over the phone and through the glass of the shop door. Many of our staff are working from home, and through emails, phone calls, and video chats an immense amount of care and gratitude is expressed in the place of face-to-face interactions. Our business at the shop has slowed significantly, especially since Governor Brown's order to "Stay Home, Save Lives," but we have made changes to adjust including opening an online store and stocking up our eBay store.
We don't ask for each customer's story, but between conversations over the phone and amongst each other there are a number of reasons why people are choosing their bicycles for transportation and recreation. Some see it as a safer way to commute to work than facing potential exposure on public transit. Lots of people are experiencing lay-offs and have less money to spend on gas. Many folks are now at home with their children who can no longer attend school and want to ride bikes together as a way to safely get some fresh air and exercise. Other people are stuck in Portland unexpectedly due to COVID-19 and need a bicycle just to get around the city. Whatever your story, we are committed to keeping the CCC Bike Shop open to help with essential repairs as long as we can keep our staff and the public healthy. It's easy to be a responsible cyclist while social distancing if you follow a few bits of advice.
Here are some tips for biking during COVID-19:
Practice social/physical distancing rules when riding: Ride solo, or ride only with members of your immediate household and be sure to maintain distance from other cyclists and pedestrians. How much distance? There's some research that suggests the 6ft rule is not enough, especially for runners and people on bikes. While the evidence and guidance on this topic is blurry, airing on the side of caution is a good idea. Give other people more space than you might think is necessary. Consider buying a bell if you don't have one already. A good bell will make alerting people-traffic a lot more pleasant.
Wearing a mask is a good idea, especially when you know you're going to be around other people on popular routes or trails.
Ride at non-peak hours of the day. If you're riding for recreation, try to plan your rides for times when less people are out and about.
Avoid unnecessary risks. Take it easy. Remember, any trip to the hospital means diverting limited healthcare resources, so ride with caution.
If you are feeling sick, stay home. Exercise and the cold, damp Northwest weather will only make your immune system have to work harder.
Make sure you are wearing or bringing weather appropriate clothing on your rides. This spring weather changes quickly. You could leave your home when it's sunny but be caught in a cold spring rainstorm.
Bring your own snacks and water if you can. This means you won't have to stop at stores whose workers are already overburdened and risk exposing yourself to the virus.
Bring a basic tool-kit. Many bike shops are trying to stay open for essential repairs if you do find yourself with a problem beyond your means, but if you do what you can to be self-sufficient it could potentially make space for someone experiencing a more serious emergency. Once again, if we can limit our contact to people outside our immediate households we can slow the spread of the virus.
Most importantly, now is not the time for that epic adventure. Rural communities are especially vulnerable to the wide-ranging influences of COVID-19, from fewer health care resources to an economic reliance on tourism. Due to state and federal closures of many public lands, access to recreation areas is already very limited. Even so, consider the impact you could have on a community by unknowingly spreading the virus while shopping at a small local grocery store, or the extensive measures and resources needed for a backcountry rescue mission when healthcare workers are already overwhelmed with patient care and concern for their own health. Now is a time for planning and research, for connecting with friends remotely and preparing for future trips.
As we adapt daily to what we are seeing and hearing in the media, to changes in health and quarantine cases, and how to best serve our community during these fluctuations, we recognize the importance of the bicycle. Bicycles can be a source of independence for many, but just as importantly create a web of connections that are essential for resilience. We are all in this together!