2023 Transportation Trivia Recap
It's been three years since the Community Cycling Center (CCC) has been able to host our annual Transportation Trivia event in-person due to Covid and we came back stronger than ever! This year's event was our largest and most successful trivia night to-date, raising $41,000 to broaden access to bicycling and its benefits!
This year saw a whopping 25 teams compete to see who would walk out with the highly coveted first and second place handmade trophies! This year, the Metroids took first and TripShot took second place. The enthusiasm in the room was palpable as teams conferred about the correct answer and then erupting in excitement when they got the answer right.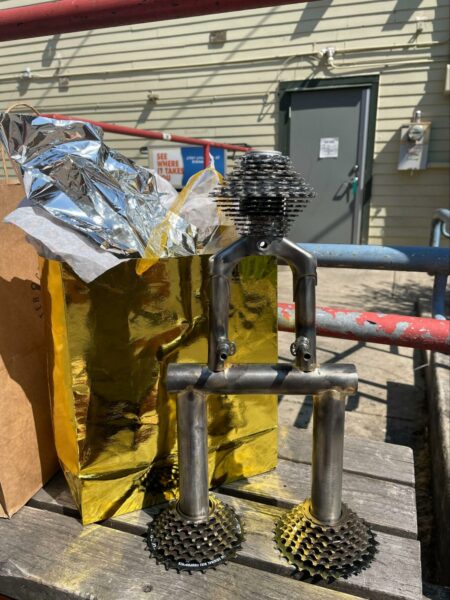 The first place trophy for 2023 Transportation Trivia, made by CCC Shop Director, Beth Offenbecher
The event featured the premiere of Andando En Bicicletas y Caminado's (ABC) first short film! Andando En Bicicletas y Caminado translates in English to riding your bike and walking around. ABC participants work together to spread awareness about the benefits of bicycling, inform and support the community regarding pedestrian, bicycling, and infrastructure issues. We are grateful to our friends and sponsors over at Ideas Collide for offering their time and talent to creating such an amazing video that highlights the impactful work being done by one of CCC's programs. You can watch the short film here.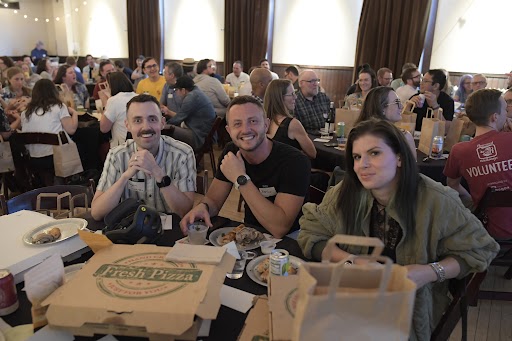 Just a portion of the Ideas Collide trivia team.
We are proud to partner with companies whose eco-friendly and community-centric values align with ours. With their innovative and sustainable micro-mobility solutions, we were thrilled to team up with Lime. Lime's dedication to providing accessible and eco-friendly transportation options to all income levels has significantly enhanced the mobility experience of folks in our local community and beyond. Just as the CCC strives to broaden access to bicycles and their benefits, Lime offers folks who receive government benefits (e.g., SNAP) the option to ride for significantly discounted rates.
Evo, a community-focused outdoor clothing and supply company (think bike, surf, wake and snowboarding!) takes a multifaceted approach to ensure they remain committed to the communities they serve. Evo is more than a storefront that sells eco-friendly outdoor clothing, they are also a unique community space. This space functions as an art gallery and even a music venue. Connection with the community is what CCC strives for through our diverse programming, we are grateful for evo's support.
The return of in-person Transportation Trivia was a resounding success. This year's event surpassed all expectations, becoming the largest and most successful event to-date. We thank Ideas Collide for their dedication and invaluable support in elevating our programming. Our pride as an organization lies in partnering with companies like Lime and evo, who share our community-centric values. We are grateful for the continued support of these remarkable partners as we strive to broaden access to bicycling and its many benefits.