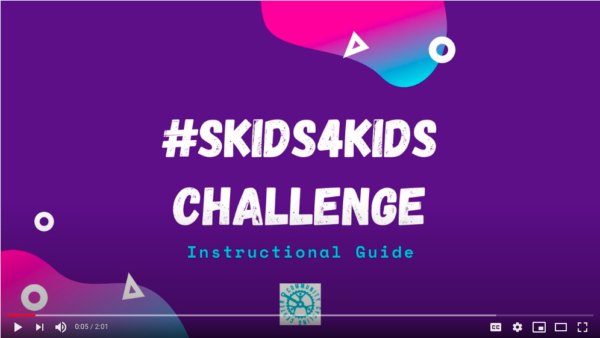 Skids 4 Kids is all about celebrating and supporting the Community Cycling Center's community programs that we have created in response to COVID-19, and spotlighting the work we look forward to returning to as soon as it's safe to do so. Donate today to support our community programs!
or Text-to-Give: SKIDS to 44-321
Support Our Covid-19 Emergency Campaign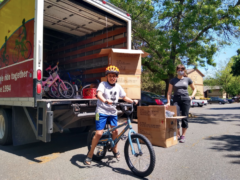 If the Community Cycling Center holds a special place in your heart, we could really use your support right now.
The on-site retail operations at the Community Cycling Center bike shop has been closed to help flatten the curve of COVID 19 infections.
With your support, we can enact safe means of delivering our mission over the coming months to individuals in need.
Food Pantry Deliveries By Bike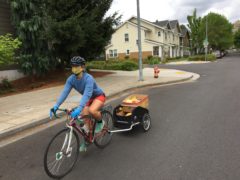 Food insecurity in our community has drastically increased since COVID-19, and has yet to slow down. Everyone deserves access to nutritious food. Period. That's why we combat hunger by bike-delivering free healthy food boxes to over 180 families every single week!
Make a donation today to keep this program funded as we continue to bike deliver food to families facing food insecurities.
How we use your gift
Your tax-deductible donation to the Community Cycling Center helps us bring the power of bikes to communities that otherwise might not have access to bicycling and its benefits. Support us in a way that is workable and meaningful for you. You can give a one-time gift or join Team Tailwind!
Team Tailwind is our crew of monthly donors who help sustain and grow the Community Cycling Center's transformative work. You can join Team Tailwind by becoming a monthly donor today!
Donors who pledge $30/month or more receive a 10% discount on new parts and accessories at the bike shop and invitations to special Team gatherings throughout the year.
Our nonprofit tax ID number is 93-1127186.
If you prefer to pay by check, please mail your donation to:
Community Cycling Center
1700 NE Alberta
Portland, OR 97211
All financial contributions receive a thank you note that also serves as your donation receipt.
Donate Your Bike
Do you have a bicycle or used parts or accessories that you are willing to regift?
Donate Your Car
You can also donate your four-wheeled vehicle to help more people get on two wheels!
Workplace Giving
Many employers help you double the impact by matching your donation! Some employers will also match your volunteer hours at the Community Cycling Center with a monetary donation. We're available as a charity to give to through easy paycheck deductions through organizations affiliated with United Way of the Columbia-Willamette.
Please check with your workplace giving administrator about your company's workplace giving program for more details.
Companies with Workplace Giving Programs

• AARP *

• Abbott Laboratories

• Aetna *

• Allstate Insurance Company *

• Ally *

• American Express *

• Applied Materials *

• AT&T

• Autodesk, Inc.

• Axium

• Bank of the West *

• Benton County

• Bi-Mart

• Boeing Company

• Bristol-Myers Squibb *

• Cardinal Health *

• Charles Schwab

• Chevron

• City of Hillsboro

• City of Lake Oswego

• City of Portland

• City of Wilsonville

• Clark County

• Costco *

• Daimler Trucks North America LLC

• Dell *

• Deloitte

• Energy Trust of Oregon

• Enterprise Holdings

• Epson Portland, Inc

• ESRI, Environmental Systems Research Institute

• First Independent Bank *

• Fred Meyer Stores

• Gales Creek

• Gap, Inc.

• GE

• Geffen Mesher and Company

• Graphic Packaging Corporation

• Hewlett-Packard *

• Home Forward

• HSBC

• Hunter-Davisson, Inc.

• IBM

• Intel*

• Kaiser Permanente *

• KPMG, LLP

• Lam Research, Inc*

• Lane Powell PC

• Liberty Mutual*

• Macy's

• McAfee *

• Merck *

• Metro

• Microsoft *

• Moda Health *

• Morgan Stanley *

• Morrison Family Services

• Multnomah County

• Neil Kelly Company, Inc.

• Nordstrom

• Norm Thompson Outfitters, Inc

• NW Natural *

• Oregon Health & Science University

• Pacificorp

• PGE *

• Pitney Bowes, Inc. *

• Port of Portland

• Portland Community College

• Portland Public Schools

• Premier Press

• Raphael House

• Regence BlueCross BlueShield of Oregon *

• REI

• Rogers Machinery Company

• Ron Tonkin Mazda

• Roseburg Forest Products *

• Safeco Insurance

• The Standard *

• State of Oregon

• Stoel Rives LLP

• Symantec

• Symetra Financial *

• Travelers *

• TriMet

• TriQuint Semiconductor

• United Parcel Service

• US Bank

• Welch Allyn

• Wells Fargo
If you have any questions regarding donations please contact [email protected]