Reducing Our Waste Stream
At the Community Cycling Center, we're committed to recycling and reusing everything we can! When bikes or parts that are donated to us can't be sold in our store or distributed through our Programs, they get sent to Salvage where our dedicated staff and volunteers help us dispose of them responsibly.
If you have questions about how to donate your gently used bikes and parts, please visit our Bikes & Parts Donation page. We do not accept donations of materials that we cannot safely recycle, such as batteries or tech waste.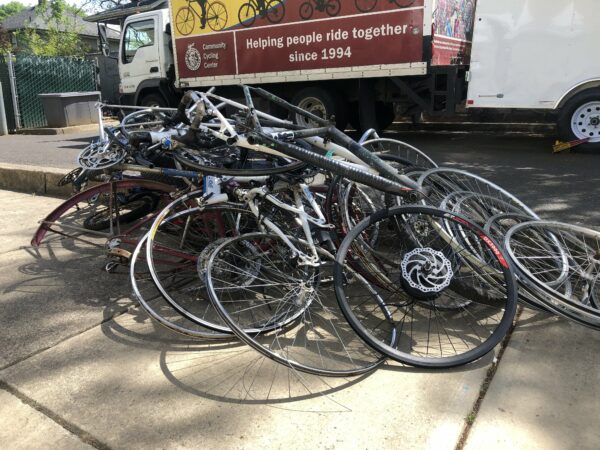 Salvage Sale
*The Salvage Sale has moved to it's new location at the CCC Annex – 135 NE Schuyler St.  Open Every Sunday 11AM-2PM *
A huge part of what we do to reduce our waste stream is finding new homes for as many donated bikes and parts as possible. Every year, our Salvage Sale redirects 15,000 lbs of materials that would otherwise be thrown away back into use! This includes items that we're not able to sell in our store or distribute through our programs. Instead, for over a decade, we have invited the community to come by on Sunday afternoons to sort through materials that are headed to the scrap yard.  Most items are sold by the pound. This is a great place to look for scrap metal for sculptures, garden art, craft projects, welding practice, and more. Stop by to see what we have available this week!
Metal Recycling
Every week, a dedicated team of staff and volunteers process metal that's bound for the scrap yard.  Their work includes stripping frames, separating aluminum rims from steel spokes, separating out tires, tubes, saddles, pedals and more.  Our goal is to bring the cleanest possible loads of scrap metal to be recycled, ensuring that our waste can be recycled as efficiently and effectively as possible. Each year we recycle over 40,000lbs of metal that would otherwise be taking up space in a landfill!
Sure, we could take bikes and parts to the scrap yard without separating types of metal and removing plastic and rubber.  But we want to do right by our donors, our community, and our industry, so we put in the extra effort to deliver clean scrap metal only!
Tubes, Tires, Rubber and More!
There are so many items that just aren't recyclable.  We have had limited success in finding ways to recycle tubes, tires, saddles, helmets, clothing, plastic bags, and more.  We find ways to re-use as many of these items as possible, but the best way to reduce our plastic and rubber waste-stream is simply to buy quality products that will last longer.