Bill Edmonds, Board Chair
NW Natural
Bill is the Director of Environmental Management & Sustainability at NW Natural. In his current position, he oversees a team that manages customer programs that touch the environment and assists a network of employees driving the company towards increasingly sustainable practices. He's recently taken on the challenge of helping the company add renewable natural gas to the gas system from sources like food waste and dairy farms. Bill is excited to bring his past board experience and his passion for biking to the good work of the Community Cycling Center. Besides every day commuting, he became an annual participant in Cycle Oregon back in 2003 and has never looked back. Bill currently serves on the PECI Board and in the past has served on boards including Earth Advantage, The Climate Trust and the Oregon Environmental Council.
Gloria Cruz, Vice Chair
David Douglas School District
Gloria Cruz lives and works in East Portland, where they are a Leave Coordinator for the David Douglas School District.  Originally from California, they earned a degree in Human Resource Management at Portland State University and has previously worked in other HR roles in the healthcare and automotive industries.  They are excited to help the Community Cycling Center explore opportunities to better serve East Portland communities, AND to help continually improve our employment practices.
Fiona Yau Luu; Board Secretary
Metro
Fiona has a background in electoral politics, community organizing, and public policy. She served on the board for Oregon Walks for the last 3 years in a number of roles including Board President. She is currently working with Metro on their plan for a future regional transportation investment. Fiona has worked on several progressive campaigns including Barack Obama's reelection and with SEIU on Measure 97. She also helped to enroll thousands of union members and the general public through the Affordable Care Act, and nationally coordinated the civic engagement holiday, National Voter Registration Day. In her spare time, Fiona volunteers with APANO and the Pride Foundation.
Keil Mueller, Immediate Past Chair
Stoll Berne
Keil is a trial lawyer at Stoll Berne. He represents individual and corporate clients in all manner of complex business litigation, including securities and financial fraud litigation, shareholder and partnership disputes, contract disputes, franchise disputes, and trade secrets litigation. Keil began volunteering at the Community Cycling Center's drop-in nights in 2010 and also served on the Center's Finance Committee. He is excited to deepen his involvement with the Center as a board member and to support and help shape our efforts to expand access to bicycling.
Jackie Yerby, Board Member
Jackie Yerby is a long-time social justice and active transportation advocate. Most recently, she served as the Executive Director for Bradley Angle, a non-profit that works with survivors of domestic violence to achieve safety and long-term stability.  Prior to Bradley Angle, Jackie worked as an organizer for Renew Oregon, a campaign to build broad-based grassroots support for meaningful action on climate change.  She worked with the faith community and communities of color to bring their voices into in the campaign. She holds an undergraduate degree in History from Yale University, and a Master of Public Policy degree from the John F. Kennedy School of Government at Harvard University. Jackie lives with a dog and two cats in the Alberta neighborhood in NE Portland.
Brian Matzat, Board Member
Trail Blazers
Brian Matzat now in his fifth season with the Trail Blazers and Rose Quarter as Director of Digital Innovation. Matzat is responsible for the advancement of digital strategy by enhancing digital experience and leading development of new digital products for the organization. Prior to his time in Oregon, Matzat earned his Bachelor of Science in Graphic Communication at Carroll University in Waukesha, Wisconsin. A vegan and avid cyclist, the Wisconsin native feels right at home in Portland.
David Kurushima; Board Member
David Kurushima has been involved with the Community Cycling Center as a volunteer, staff member and now board member since 2006. He moved to Portland in 2008 specifically to work for the Community Cycling Center as a mechanic, and over the years has had a hand in nearly every aspect of the organization. David has always been most excited about the Community Cycling Center's ability to lower the most basic barriers to active transportation and recreation by creating welcoming spaces and communities where people can access affordable equipment, services and knowledge.
David has a B.A. in History and a B.A. in Art History from the University of Oregon and currently works for Motivate, which operates Portland's BikeTown bike share program. Aside from a regular, but casual, interest in cycling, David also enjoys surfing, trail running and being a part of Portland's wonderful Ultimate (Frisbee) community.
Skip Potter; Board Member
Nike
Skip Potter has been the Chief Technology Officer at Nike since 2016. As a newcomer to Portland, an enthusiastic cyclist, and a parent, he was drawn to the mission of the Community Cycling Center to change lives through bicycles. He first got to know the Cycling Center through a bike cleaning at the shop as a team-building event with Nike, and was excited to get more involved. He is particularly excited about the "Bike Mechanics as STEM education" program at alternative high schools. He is enjoying exploring Oregon with his family.
Tony Lamb; Board Member
Tony holds a Master of Urban and Regional Planning and Graduate Certificate in Real Estate Development from Portland State University. His focus is on economic, real estate, and community
development with equitable outcomes for communities of color. He currently works for the City of Portland Bureau of Planning and Sustainability with the housing and economic policy team.
In addition to his work, Tony is passionate about giving back to his community in numerous ways. He co-chairs both the Bureau and Budget Advisory Committee and Fixing Our Streets Oversight Committee for the Portland Bureau of Transportation. He serves on the board of directors for the Community Cycling Center and is excited to see underrepresented communities lead the future of biking. In his free time, he enjoys reading, hiking, trail running, mountain biking, coffee and kombucha with his wife Bethany and dog Fern.
Sara Pietka; Board Member
Sara is a consultant in the community and economic development sectors with a specialization in tax credit financing. She has extensive experience in development finance, financial management, investment management, strategic planning, and systems-building in both for-profit and non-profit settings. She is a third-generation Oregonian and is deeply passionate about contributing to the community. She looks forward to supporting the Community Cycling Center in its work to broaden access to bicycling, and believes that mobility is a critical component of both individual freedom and human connection.
Sara has a B.S. in Business & Technology and a Minor in Economics from Stevens Institute of Technology and is a Development Finance Certified Professional (DFCP) through the Council of Development Finance Agencies. She lives in NE Portland with her husband and two young daughters and enjoys family bike rides around the city.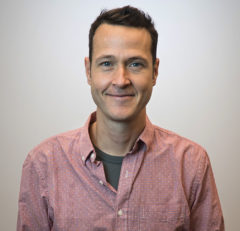 Johnny Burrell; Board Member
Johnny Burrell is an Oregon native and Finance Director at Nike, where he has worked since 1999.  He started volunteering at the CCC for the Holiday Bike Drive and has been on the Finance Committee since 2019.  He has been active in the cycling community since 2008 and can frequently be seen riding to/from work between NE and Beaverton.  He holds an undergraduate degree from the University of Southern Oregon in Computers and Information Systems.  Johnny lives with his wife and two kids in the Alberta neighborhood near the CCC bike shop.  For fun, he enjoys volunteering, camping, fishing and mountain biking with his friends and kids.
Steven Soto; Board Member
Steven is a Senior Operations Manager at Lam Research. Lam Research has been a supporter of the Community Cycling Center for several years and supports a strong culture of community involvement. Steven has been volunteering at Tuesday night volunteer nights and the Holiday Bike Drive since 2013, usually with his son Luke. Steven earned Bachelors and Masters degrees in Mechanical Engineering from Texas A&M University. After moving his family to Portland from the San Francisco Bay area ten years ago, he rekindled his childhood enthusiasm for the bicycle and its benefits.