1700 NE Alberta St. // 503.287.8786 // Open Thursday-Saturday 10am-7pm & Sunday 12pm-5pm. Closed Monday-Wednesday.

Masks greatly appreciated.

Knowledge Of Bikes, Care For People
The Community Cycling Center bike shop is a neighborhood resource and community hub. It's also the heart of everything we do; sales at the Shop generate revenue to  support our community programs.
Our high-volume shop is staffed by experienced people from diverse cycling backgrounds who provide compassionate customer service to a broad cross-section of cyclists. Here at the shop, we value and support one another through the work we do and are committed to working collaboratively to meet our goals. We acknowledge and value diversity and its many intersections. We are proud that people of color, women, neuro-divergent, gender non-conforming and LGBTQIA+ folks choose to work at our shop. We honor our mission to make bicycles accessible for people of all backgrounds by striving to create a space that is welcoming and accessible for everyone.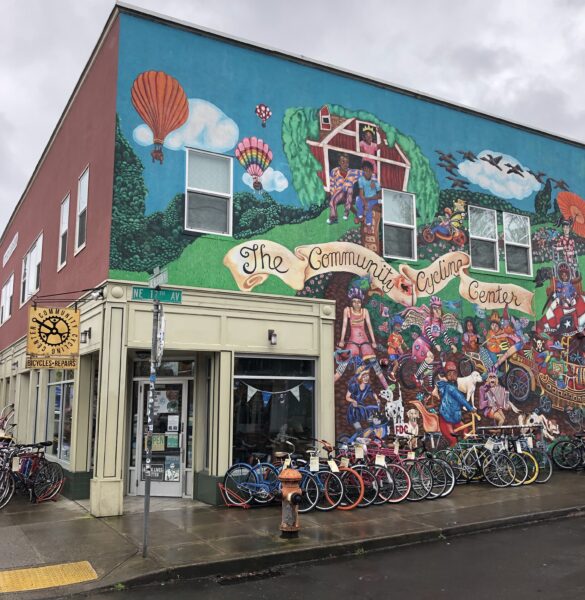 Low Income Commuter Discount
We know that cost is a major prohibiting factor in owning a functional bicycle. To begin to counter this we offer a 30% discount, plus a variety of other services for people living on a low income. >>> Learn more and support here
Repairs
Our Shop on Alberta st. is a full-service repair shop; offering everything from on-the-spot adjustments to custom builds and complete overhauls. Check out our Repairs page for more information. >>> Go to Repairs page
New & Used Bicycles
Looking for a bike? You've come to the right place! We have a wide selection of ready-to-ride new and used bikes. Check out our Bikes for Sale page for more information. >>> Go to Bikes For Sale page
New & Used Parts & Accessories
Everything you and your bike needs for all types of riding–plus a Used Parts selection made of DIYers' dreams!
Ebay
We have a 5-star eBay page that we keep stocked with goodies from all eras.   >>> Learn more here
Salvage & Recycling
Reducing waste, recycling TONS of steel and aluminum, and reusing every scrap we can salvage — it's part of what makes the Community Cycling Center a truly remarkable place! >>> Learn more here
Donating Gently Used Bikes & Parts
Donations keep us going! We gladly accept gently used bicycles, parts, and accessories. Be sure to check our 'Donating Bikes & Parts' page for more information before dropping off your donation.
Community Agreements