Meet Development Director, Efrain Duarte!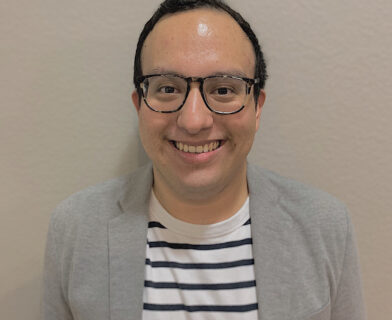 The Community Cycling Center is happy to announce our new Development Director, Efrain Duarte!
Efrain is a native Texan who has over six years of fundraising experience in the non-profit world, and has worked with social service, education, and most recently a performing arts organization. Along with his non-profit experience, Efrain has served on boards of various organizations, including a local chapter of the Association of Fundraising Professionals. We're excited for him to bring his experience to the Community Cycling Center!
Efrain is looking forward to joining life in Portland and truly immersing himself in the communities the Community Cycling Center serves. He can't wait to explore Portland by bicycle and truly experience the beauty of the Pacific Northwest.
Join us in welcoming Efrain to Portland and the Community Cycling Center!
You can learn more about Efrain by reading a full interview with him below.
Why did you choose to join the Community Cycling Center as it's next Development Director?
Getting the opportunity to serve as the Development Director for the Community Cycling Center is an incredible opportunity, because a lot of my work and life experience has been around making communities a better place, whether it be through better opportunities to livelihood, or better opportunities through health, and through my role at the Community Cycling Center, I am glad I get to join those two things and broaden access to bicycling and its benefits. I look forward to continuing the great work the organization has done, and I look forward to helping expand those great works.
What can staff, supporters, and the communities we serve expect from you during your time with us?
I like to consider myself someone who likes to be out in the community. I am intentional in listening to the voices of the community, and really understanding what the needs are, and how we as the organization can meet those needs. I am also a big proponent of collaboration, not only for the success of the organization but for the communities of Portland as well. Lastly, I am always up for a conversation, so please reach out and I would love to talk to you about anything!
Texas is pretty far away. What will you miss and what are you looking forward to most?
First and foremost I am going to miss my family. I have never lived outside of Texas before so I think that will be a big adjustment to not be able to see them all in a quick visit, but so thankful technology can keep us connected. I'm looking forward to the adventure, being outside of Texas for the first time ever, I am looking forward to exploring all of the great treasures of the Pacific Northwest!
You've been working with non-profit organizations for a long time! What got you interested and what keeps you interested in this type of work?
What got me interested in non-profits is the spirit of community. Communities always come together to create solutions to enhance the communities they live in, and I feel that non-profits do the same. I love the collaborative spirit of non-profits with each other, and non-profits with the community, there is a real beauty to seeing what is achievable when we come together. There is always going to be something better we can do for our communities, whether it's volunteering or donating, there is always an opportunity to make a community a better place. I've always been of the mindset that you leave someplace just a little better than when you arrived, and have carried that with me. What keeps me interested in the work is the always ever changing needs of communities.  Some needs are met, some needs change focus, and I am just along for the ride doing what I can to create a better community.
You have a dog! We love dogs. Tell us all about your dog.
I adopted a dog with my fiancé almost 3 years ago, in the fall of 2018, from a local shelter, and she has been spoiled ever since. Her name is Charlie Luanne (she's definitely going to be a Texas girl at heart with that name). She is a Boxer and Lab mix and was born on Cinco de Mayo in 2018. She loves going on walks, playing with chew toys and enjoys a good nap. She loves a good pumpkin flavored treat, and Starbucks puppacino in the fall. Just like me, Charlie is always up for a good adventure as long as good food and friends await!
Tell us about your most memorable bike ride!
My most memorable bike ride (for now) would have to be the very first time I rode a bike. There's something about trying something new, failing and falling multiple times that is unforgettable. Once riding a bike clicks, and those pedals rotate, and you're off to explore it's quite the experience from start to finish. Now that I am in the Pacific Northwest, I can't wait to get the chance to make many memorable treks.
You asked your new coworkers for recommendations for both Mexican and barbeque food in Portland. What else would you like tips on as a new Portlander?
I would like to know what are the best rain gear must-haves, and the one thing a Portlander must experience while living in Portland. Also, I don't mind more barbeque and Mexican food recommendations!
Is there anything else you wish for the world to know about you?
Another love of mine is live music. I absolutely love concerts, music festivals (and really missing that at this time). A couple of great examples of this include seeing Adele and Sia in a single weekend (both fantastic live performers) and getting the chance to meet and take a photo with Sam Smith, twice, after his concert (also a really great performer). Also I have a slight sweet spot for Disney World. I had never been there until 2015, and I had to make it count so I went to all four parks in two days, which totaled somewhere around 40 miles of walking during those two days. Being on the West Coast I am excited to get the chance to hopefully make it out to Disneyland for the first time!