New Program Alert – Community Bike Drives!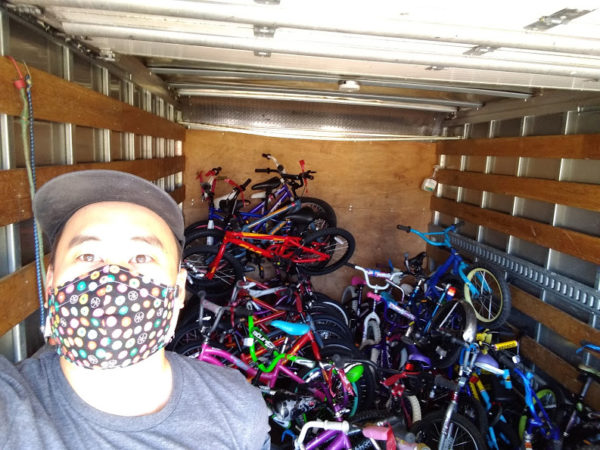 The Masked Matt A. with a huge load of Community Bikes out for delivery!
The Community Cycling Center's Holiday Bike Drive is well known in Portland for providing hundreds of children who face numerous social barriers with free bicycles every winter. Each bike is paired with a helmet through Trauma Nurses Talk Tough and tuned up by volunteer certified mechanics. The bikes are then double-checked by a second mechanic because Community Cycling Center believes that we can't get riders smiling out on the streets if their bikes aren't safe.
To make a greater impact in our community, we've decided to host frequent bike-drives throughout the year called "Community Bike Drives." Once the bikes are ready to be gifted, Community Cycling Center staff delivers bicycles to each household. These donated bikes are used to help community members get to work, get to school and get to some fun! 
With a new model, we were presented with new logistical and funding challenges. Thankfully, our friends at Stalk Market Compostable Products stepped up to help make it possible! With Stalk Market's support as a Title Sponsor, Community Bike Drives allow us to reach new community members, and give us an opportunity to reconnect with individuals and families we served over the last several years. Many of the children who receive free bikes are from low-income backgrounds. CCC recognizes how difficult it is to escape poverty, and wants to better meet the demands of children aging out of their donated bikes so they can continue experiencing the joys of bicycling as they grow up. Hosting frequent Community Bike Drives facilitates a lasting impact in our community through genuine connection and support.
While donated bikes and volunteering are integral to the success and heart of both the Holiday Bike Drive and Community Bike Drives, we could not have done this without Stalk Market's generous financial support! Their $10,000 sponsorship helped afford the professional mechanic time, off-set the costs of staff transporting bikes to 37 families this past May, and fund our special community programs. Thank you Stalk Market!  
When do Community Bike Drives happen? This depends on the number of bike donations we receive! We always need donated bikes for children and adults. If you'd like to donate a bicycle, please email [email protected].
 We are also in need of more incredible partners like Stalk Market to help fund our mission to broaden access to bicycling and its benefits. All partnership inquiries can be sent to [email protected].
And don't forget to pick up your compostable products from Stalk Market Compostables at your next social distance outdoor potluck!