New School and New Staff for our STEM Program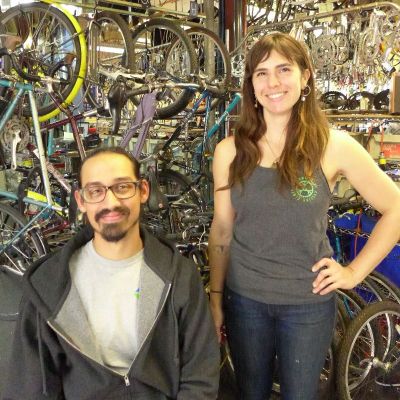 Since 2015, the Community Cycling Center has been teaching "Bike Mechanics as STEM Education" in two alternative secondary schools: Helensview and Rosemary Anderson/POIC New Columbia. In keeping with our long history of using bikes and bike mechanics as a tool for empowerment and a vehicle for change, this program was designed to bring multiple benefits to young people who have not been served well in the school system:
Students earn credits they need to graduate high school,
Students learn that they can succeed in math and science, and they are exposed to a range of academic and career possibilities that they would not have otherwise considered,
Students gain practical, hands-on experience, problem-solving skills and confidence with tools that will help them in life no matter what career and academic choices they make,
Students earn a bike to keep, giving them affordable, flexible and convenient transportation, and
Students benefit from positive mentorship from caring adults, which has been shown to be the #1 predictor of academic success.
After nearly four years of developing/growing/improving the program with the same staff leadership and the same two partner schools, we have two big changes this fall:
We added a third school this September: Lord High School at MacLaren Youth Correctional Facility in Woodburn. As with the first two schools, we need to customize our approach based on the unique needs of the school. For example, students there are not allowed to earn bikes to keep, so instead they will be working on bikes for us to give away through the Holiday Bike Drive and our after school Bike Clubs. After only 7 weeks, we are already seeing strong results through attendance and student engagement.
We are having a staff transition, but luckily it has been slow, deliberate and smooth! Andrea Chiotti, who got her own start as a mechanic in an earlier version of an apprenticeship program at the Cycling Center starting in 2012, developed and launched this program and has been leading it since 2015. After 7 years with the organization and 4 years at the head of this program, she has decided to move on. We are heartbroken to see her go, because she has been an incredible source of enthusiasm, compassion and conscience within the organization. However, we are delighted to be adding not one but two amazing people to the STEM team to follow in her footsteps. Will Joseph and Riley Gabriel were both hired at the Cycling Center as Mechanics this spring and both bring a wealth of experience as mechanics and as educators. Starting this month, Will is our new STEM Education Program Supervisor, and Riley is our new Program Mechanic. That means that Will will coordinate, plan, and implement the program, and Riley will be the second mechanic/instructor in the classrooms. When she's not working in the STEM program, the new role of "Program Mechanic" will have Riley helping volunteers refurbish bikes for the Holiday Bike Drive, doing bike safety checks for our summer camp participants, and otherwise supporting our programs with her excellent mechanic skills. We couldn't imagine a better team to take the STEM program forward.