We Have Bike Clubs Too!
Written by Natty Pillias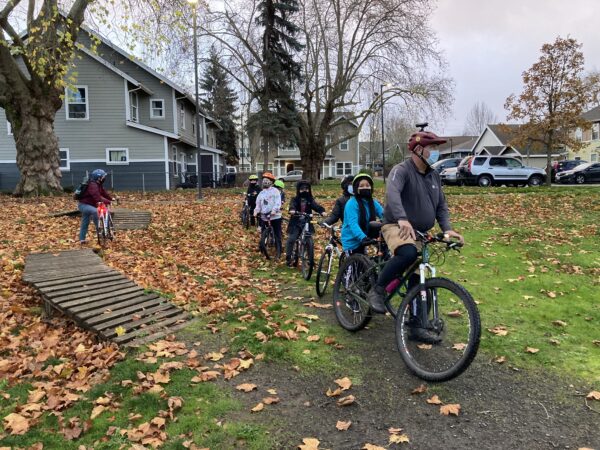 Fun! Neighborhood exploration! The opportunity to earn a bike! The Community Cycling Center's Bike Club program is just that! We not only have a shop — we also offer an after school Bike Club program developed and run by the programs department of Community Cycling Center(CCC). This past fall, with the help of The SUN Program we facilitated Bike Club in 3 different schools:Menlo Park, César Chávez & Parkrose Middle.
What is bike Club?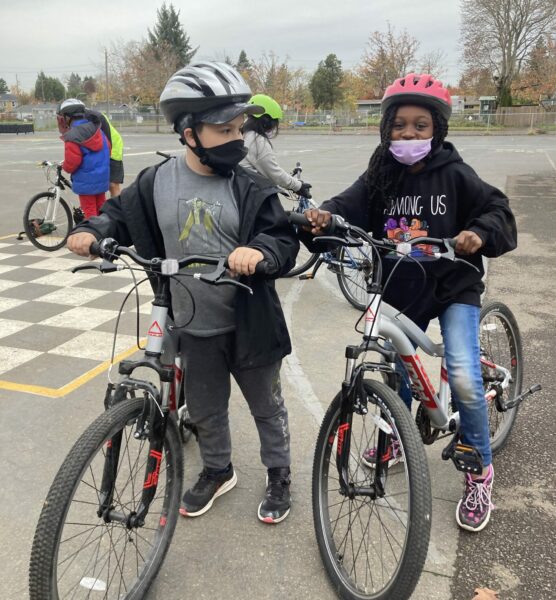 Bike Club is for elementary students grades K-5. It's a 1-2 hour after school class / hands-on experience of riding as a group and learning how to ride responsibly on the road. Safety, self reliance and Fun is what we are striving for while in Club. We teach basic rules of the road, light bike mechanics and some strategies with route planning/wayfinding. This is primarily done outside! Imagine us practicing on the roads, in the bike lanes, as a line with 8-10 students and two instructors. It's quite a sight to see!
We learn some "Bike lingo" and play cool memory games while learning. A 'laser line' is a term we use to describe what it should look like when we are riding as a group. It's not very safe to have students zig-zagging across the road, and it's not very fun to say ,"Single file!" so, 'laser line' it is! We ride  our way to parks and places of interest within the students' communities. We practice what we teach while on the roads making sure everyone is learning at the same pace. This as well as many other things are taught while in the Bike Club. If you would like to see what exciting experiences are happening in the club, Stay tuned! I'll be posting stories about Bike Club throughout the coming months!
Please allow me to introduce these wonderful, patient team leaders teaching our kids:
Maddie grew up in Cully and has since lived all across Portland's Eastside. Consequently, I am destined to be a lifelong Blazer fan, no matter what happens. When I'm not exploring the city with Bike Club, you can find me cooking up pancakes by a river or playing ultimate frisbee. I love to be outside, spend time with my family, and learn new creative skills!
Nat enjoys riding bikes and good coffee. You can find Nat anywhere bikes go, including bike clubs in East Portland!
A former chef and lifelong bike rider, Mike discovered his calling while volunteering for the Bicycle Transportation Alliance's Bike Safety program at his kids' school. He has been active: empowering children, teaching bike safety, and exploring neighborhoods by bike throughout the Metro since 2015.
Alec is our newest Bike Club instructor, joining CCC in October 2021. They are a passionate advocate for empowering youth to explore their community and get out on two wheels. When not riding bikes for work, you can find them reading, writing, baking, or riding their bike for fun.
Please follow along while we take a ride through the experience of club!