Do You Know About Our Low Income Commuter Services?
As we get closer to the perfect fall weather so many Portlanders enjoy riding in, we thought this would be a good time to tell you more about our bike shop's program that keeps hundreds of Portlanders riding year-round, regardless of income. Here's a great story from our awesome retail staffer LB about the program in action. Enjoy!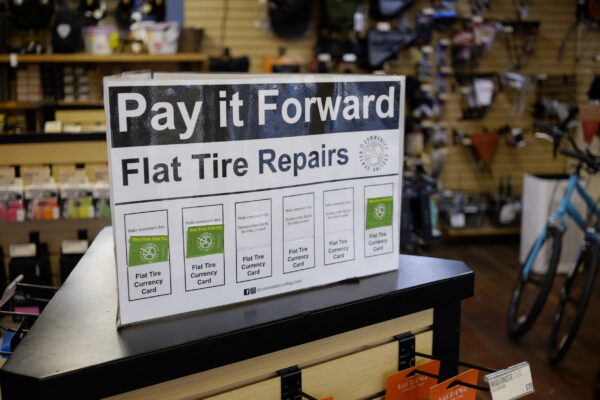 Hi, I'm LB (they/them) and I'm one of the retail staff here at the CCC. If you've been into the bike shop lately, you may have been asked if you'd like to make a donation to "Low Income Commuter Services" at checkout. But what exactly are our Low Income Commuter Services? Who benefits from your donation?
Our Low Income Commuter Services include pay it forward flat fixes and a steep discount on all new and used bikes, parts, accessories, and labor–everything! The customers show us evidence of limited income one time and get the discount for a calendar year. (If you are curious if you qualify, just ask us next time you are in the shop). Our Low Income Commuter Services were started in 2008 and have grown from there. In just the last calendar year, the program has benefited 300 customers at our Alberta bike shop, and we've been able to provide $34,671 in bikes, parts, and labor. It is important to us to break down barriers to cycling wherever we may find them, and that includes making sure as many people as possible can afford to buy, maintain, and improve their bikes at our retail location. 
The other day a large extended family came in looking for bikes for their four kids — two kids bikes for the younger kids and two adult bikes for the teenagers. They spoke with me through an interpreter — they were recent refugees from Ukraine. They had gotten funding from a support organization to get bikes for their kids, and they could absolutely not afford to go over budget in the slightest. When they saw the prices, they were visibly worried. I explained the Low Income Commuter Services to them, and everything changed. 
The Low Income Commuter Discount brought nearly half of our bikes into their price range. The kids got the all clear from their parents to pick some bikes to test ride. I didn't understand what was said but I saw their faces light up and they showed me which bikes they wanted to try. As a bike salesperson, one of the sweetest moments I get to witness is watching a parent steady their child as they take their first careful pedals on an unfamiliar bike. Watching the same child gain confidence and zoom off just moments later is a kind of joyful that transcends culture and language. "He loves it!" said the interpreter, gesturing to the bright red Specialized. I hardly needed the clarification – the New Bike Enthusiasm was impossible to miss. 
Our Low Income Commuter Services enabled all four kids to go home with bikes, helmets, and huge grins on their faces. 
Thanks LB! Everyone deserves to feel that New Bike Enthusiasm and our LICS program is making it happen for our community!