Just Another Day At Bike Club!
Written by Nat Shreffler
Bike club at Menlo Elementary was made extra special this past fall thanks to two new learners, Franklin and Adrian. We typically start a club with participants who already know how to ride–this allows us to get rolling and ride and roads to fun destinations. This fall was a reminder that it's not about the destination,- but the journey.
We spent a lot more time in the school yard than usual. For those who knew how to ride already- we kept it exciting by using the school's neat landscape of hilly terrain. Eventually we came up with a plan to get everyone to nearby East Holladay Park.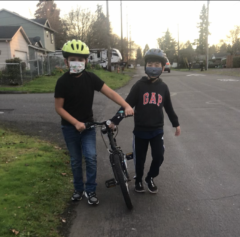 Franklin, Adrian, and I were on foot while Maddie led the riders. I thought it might be easier if I wheeled one bike while Franklin and Adrian worked as a team to wheel the other. I ended up being very wrong, but they had a ton of fun trying to figure out how walking and steering a bike with two people worked. There were so many giggles that I couldn't help but laugh along.
The walk is about 1 mile, and well worth the reward! East Holladay Park has a paved loop that bike club participants can ride at their own pace. Franklin had progressed to being able to ride on his own- and was off zooming around while Adrian practiced his scooting and gliding. The rest of the group was split between riding the track and playing on the play structure.
Being at the park gave Adrian the change of scenery he needed to feel more motivated. Sometimes on the school yard he would want to end early and say he was finished after a few tries at gliding. At the park, he was so excited that he can be heard in an interview I recorded with another bike club participant. In the background you hear Adrian's energized voice saying "Did you see me?! Did you see me?!" as he scooted up to me, proud of his progress at gliding on a downhill portion of the track.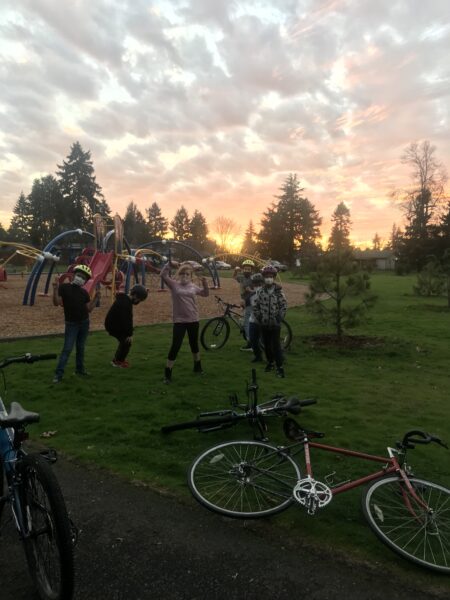 On the walk home, Adrian, Franklin, and I took our time enjoying the scenery in the sky. We also looked for interesting things around the neighborhood. We got really into searching for bird's nests in the trees. All of the leaves had fallen in many trees which had made the nests really visible. Eventually we caught up with the riding group at the cross walk on Glisan and returned to the school campus.